Pretty fancy name for a basic frittata, no?
Frittata's are simple and easy and the prefect meal to make when you want something light, tasty and fast. It's perfectly OK to go really basic with just onion and garlic as your flavorings - or to go more gourmet with fancy cheeses, shallots, vegetables and meat.
This one takes you to Greece with a bit of spinach, feta cheese and fresh vine ripened tomato - straight from the garden. Paired with a green salad, it makes for a wonderfully light and satisfying summertime meal.
MEDITTERANEAN EGG BAKE

2 tbsp butter1 red pepper, chopped1/2 medium onion, finely chopped1 garlic clove, finely minced1 cup fresh spinach8 whole eggs1/2 cup of milk2 ounces crumbled feta cheesesalt and pepper, to tasteTomato Topping:1 ripened tomato, diced1 tbsp extra virgin olive oilsalt and pepper, to taste2 tbsp chopped fresh basil or parsleyPreheat oven to 350 degrees.In a large oven proof skillet, melt butter over medium heat. Add onions, garlic and peppers and saute until onions are translucent. Add spinach and continue to saute until wilted.Meanwhile, in a large bowl whisk together eggs, milk, cheese and salt and pepper until well combined. Add to spinach mixture on stovetop, and stir until eggs begin to cook. Transfer entire skillet to the oven, and cook for approximately 12-15 minutes, or until the top is slightly brown and eggs are set. Remove from oven and let cool 2-3 minutes. Use a knife to cut wedges of frittata (as you would a pie).In a small bowl, combine diced tomato, oil, salt and pepper and basil. Top frittata slice with tomato mixture and serve.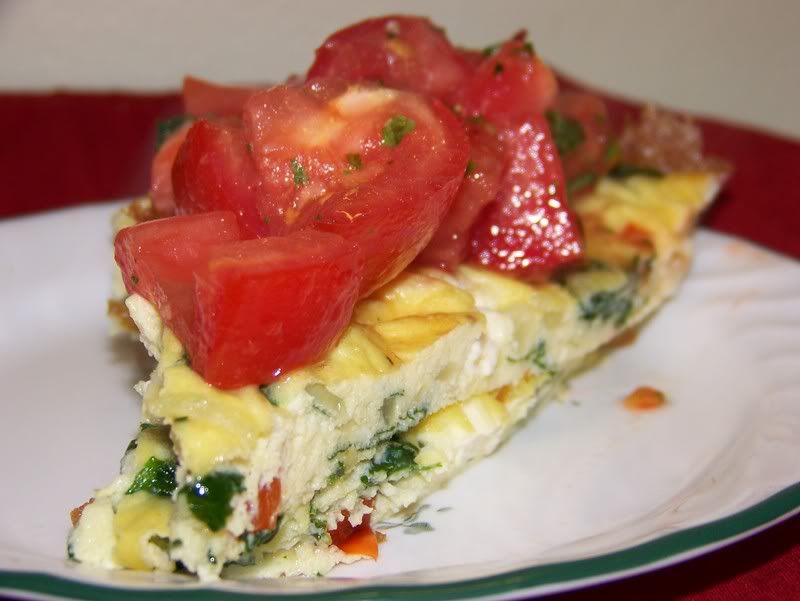 Believe it or not, the leftovers make a great breakfast or lunch! The eggs are still light and fluffy and do not turn rubbery when re-heated.