This recipe is for
Lisa
, who requested that I post it.
Hey Lisa, you will not be disappointed! This meal was killer! I was a little unsure of the pumpkin part of the ingredient list - - but the canned (real) pumpkin actually lent a creamy subtle flavor that blended nicely with the sage and chicken. Plus, it takes about 15 minutes to put the whole thing together. Who doesn't like meals like that?!
PASTA and CHICKEN with PUMPKIN CREAM SAUCE
2 boneless, skinless chicken breasts - cut into 1 inch strips
1 package of bow tie pasta
1 tbsp vegetable oil
1 garlic clove, finely minced
1 cup Libby's real canned pumpkin
1/2 cup chicken stock
3/4 cup heavy cream
2 tbsp fresh sage, finely chopped
1 cup roughly chopped pecans
salt and pepper to taste
pinch of fresh nutmeg (optional)
Prepare pasta according to package directions.
In a medium bowl, combine pumpkin, chicken stock, cream and sage. Set aside. Meanwhile, toast pecans in a dry (no oil or butter!) small skillet, until they become fragrant. Set aside.
In a large skillet saute chicken and garlic in oil until chicken is golden and cooked through. Add cooked pasta. Immediately add pumpkin sauce and cook until sauce is hot. Add half of the pecans and mix. Season with salt and pepper, and add a pinch of nutmeg as your "secret ingredient." (I always add nutmeg in cream sauces.) Remove from heat and divide into servings. Top with remaining pecans.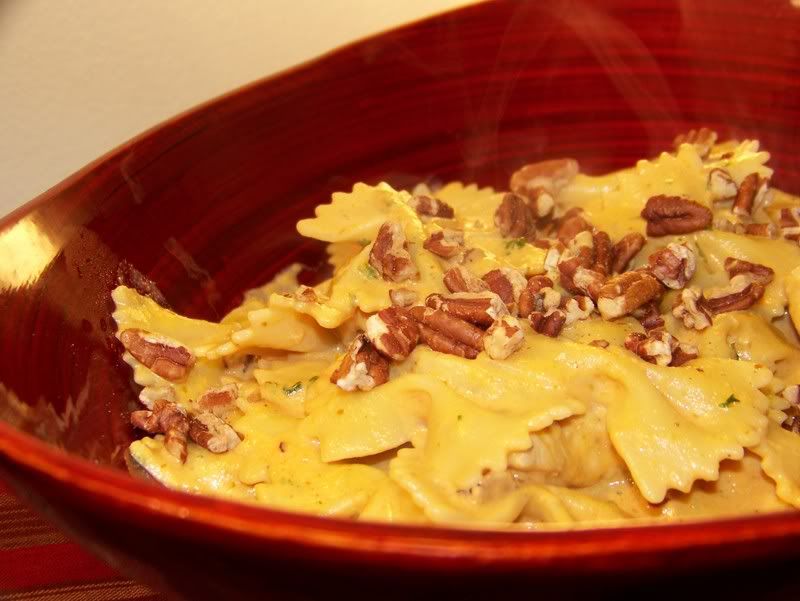 There were no leftovers. None. The puppy didn't even get to taste!