Oh my YUM!
If someone were to shout "All you fish haters, raise your hand" my arm would be in the air so fast, I'd probably pull a muscle! Some may notice that we do eat our fair share of seafood with all the recipes I post - and honestly, it's because I'm constantly told that fish is
good for you
. (Except
fish from China
...some of those are very, very bad.) I usually force myself to eat what's on the plate, and I do admit that it's not that bad...but I'll never crave the stuff, although I do tolerate it.
But THIS recipe is the bomb!
I'm serious!!! Fish lovers and fish haters can stand and rejoice in unity - - it's that good.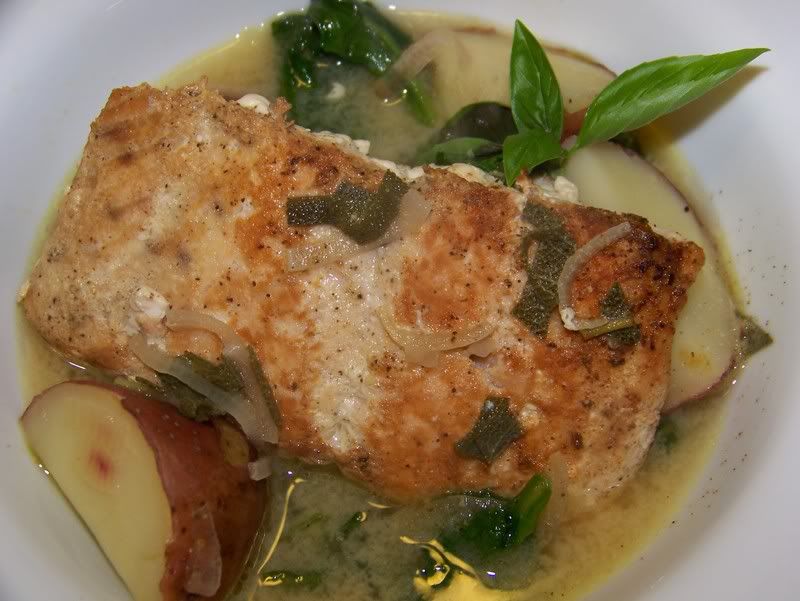 Note: This recipe has a couple of separate
components, so I am going to space them apart in the ingredient list.
SEARED SALMON with NEW POTATOES and DIJON BROTH
1 1/2 pounds baby red skinned potatoes, unpeeled
2 tbsp butter
2 tbsp canola or vegetable oil
4 6-8 oz. skinless wild salmon fillets
2 cups dry
vermouth
2 large shallots, thinly sliced
2 tbsp apple cider vinegar
1 1/2 cups chicken broth
2 tbsp chopped fresh sage, plus more for garnish
1 tbsp dijon mustard
2 tbsp olive oil
1 1/2 pounds fresh baby spinach leaves
Preheat oven to 400 degrees. Place whole potatoes in a large saucepan and fill with cold water. Bring to a boil and cook until almost cooked through, approximately 12 minutes. Drain. Once cool to the touch, cut potatoes in half and set aside.
Combine vermouth, shallots and vinegar in heavy large saucepan. Boil until reduced to 1 cup, approximately 7 minutes. Add chicken broth, chopped sage and mustard. Bring just to a boil.
Meanwhile, in a large skillet, melt butter with canola oil over high heat. Season salmon with salt and pepper. Place salmon in skillet, flat side up. Cook until brown, turning once. Carefully arrange salmon, flat side down in a large baking dish. Scatter potatoes around salmon. Pour hot broth over salmon and potatoes. Bake in the oven until salmon and potatoes are thoroughly cooked, approximately 20 minutes.
Using the same skillet you browned the fish in, heat some olive oil in with the brown bits left from the salmon. Add spinach to the skillet and toss until wilted. For service: divide spinach among 4 bowls. Top each with potatoes and 1 fillet of salmon. Divide broth, garnish with sage (or, in my case - basil) and serve!
The reduced vermouth adds that sweet somethin' somethin' that totally becomes infused in the salmon. If you don't have vermouth, you can easily substitute your favorite dry white wine instead.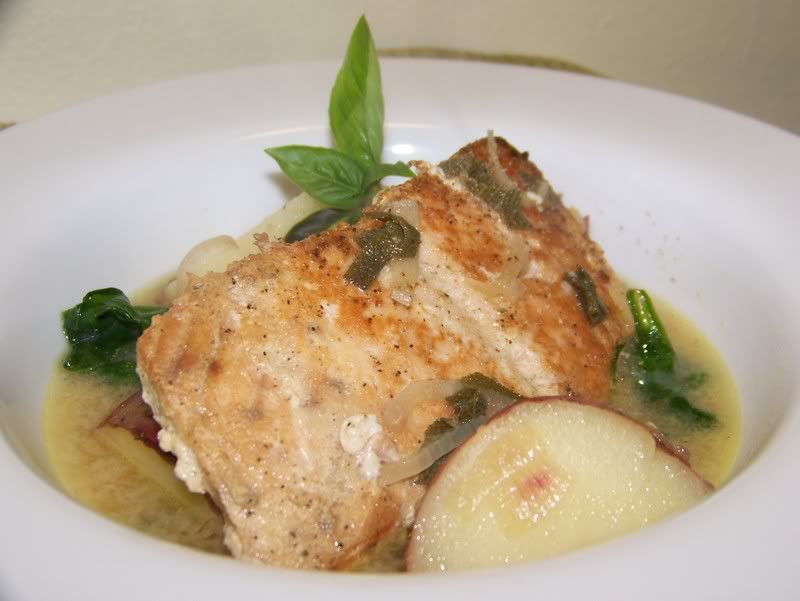 I swear that you will be digging for a spoon to drink up all that delicious broth!