When I was 18 years old, I moved out of my parents house (for good, thank you very much!). One of the first meals I made was this hearty chowder, and honestly it was because of this meal that I found out I loved cooking. Not only is it made with bacon - BACON!! - but one bowl of the stuff will fill you up until breakfast the next morning. It's also good for a crowd, because you don't have to spend the money on a lean slab of bacon, the fattier kind actually works a little better because the grease is a major ingredient. It's a recipe that is easily doubled, without adding any additional prep or cooking time, and the prep is ridiculously easy...you basically cut up potatoes. Child's play, I tell ya!
Make this and bask in all of the praise you receive...
SAVORY BACON AND POTATO CHOWDER

8 slices of bacon, cut into cubes2 cups new potatoes, scrubbed and cut into bite sized pieces1 cup whole kernel frozen or fresh corn1 1/2 cups milk1 can of cream of chicken soup1 cup sour cream1 medium onion, dicedpepper, to tastethyme (fresh herbs do taste better, but dried are just fine) - adjust accordinglywater or chicken stock, optional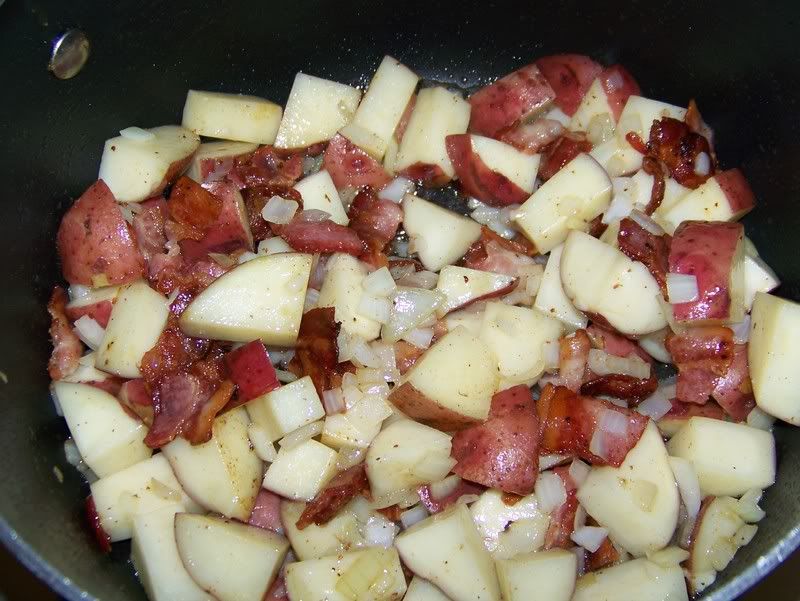 Fry up bacon in a large pot until crisp, and most of the fat has rendered. Add onions and potatoes to the bacon and grease and cook until potatoes begin to soften and onions become translucent, stirring often. (You can drain off some of the grease.) Add milk, cream of chicken soup and sour cream and stir until well combined. (Note: you may want to add some chicken stock or water to thin out the soup as it will reduce down some...it totally depends on how chunky you prefer your overall product to be.) Bring to a boil, and cook until potatoes are soft. Add corn, thyme and pepper. Serve alongside a salad, or in a bread bowl.
We like ours chunky...Nathan actually ate his with a fork!
Speaking of Nathan - he also ate the entire bread bowl...in one sitting! Not only did he eat the bowl, but he also ate the bread I scooped out to make the bowl shape. I was amazed and horrified, all at the same time. I don't know where he puts it.