This recipe is so easy that I was able to make it 1. while camping, and 2. with a freakin broken finger! Next time, I will probably make
my own meatballs
since I did not enjoy the texture of the store-bought kind, but all in all the meal was very tasty and was fresh from the stove to the plate in about 20 minutes, flat.
SWEET AND SOUR MEATBALLS
2 bell peppers, any color, cubed (I did a trifecta of green, red and yellow)1 tbsp soy sauce2 tbsp firmly packed brown sugar2 tbsp apple cider vinegar1 20 oz. can of pineapple chunks with juice1 tbsp cornstarch1/2 tsp ground ginger2 tbsp butter2 lbs cooked meatballsIn a large stock pot combine butter, soy sauce, pineapple juice, brown sugar cornstarch, ginger and vinegar until thick and bubbly. Add peppers, meatballs and pineapple chunks stirring to combine with sauce. Cook until meatballs are hot and peppers are crisp-tender. Serve over rice.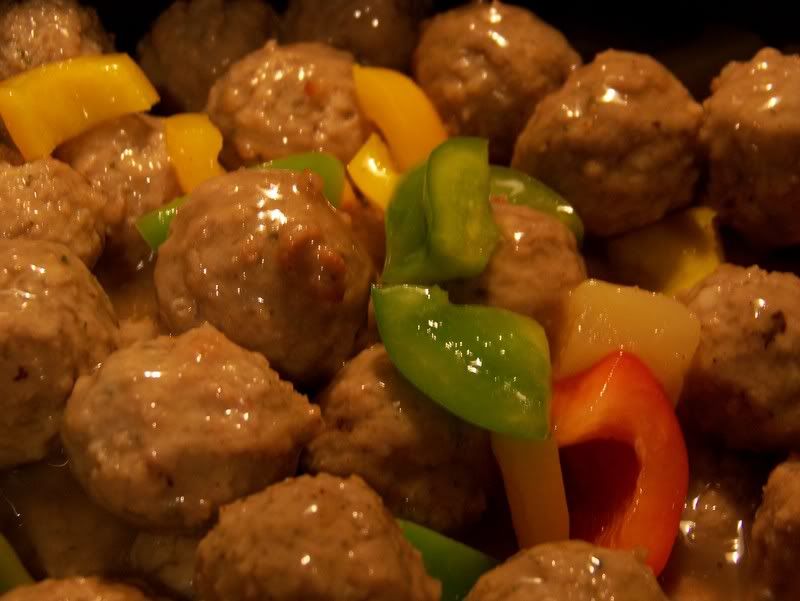 Glistening, in the sauce!
While we were chowing down, I couldn't help but think that these meatballs would make a perfect little colorful party appetizer - skewer one meatball, one pepper and one pineapple chunk and serve along side the sauce for easy dipping.