I didn't try a
Brussels
sprout until I was well into adulthood, and with good reason - - my mother hates them with a passion. I like anything and everything in cabbage family,
Brussels
sprouts included! Steamed and tossed with some butter and salt...oh man! I just adore their earthy flavor.
The grocery store had some lovely organic
Brussels
sprouts that I simply could not pass up when I did my weekly shopping. I bought only about a cups worth - - and immediately started to think about how I would use them.
BRUSSELS

SPROUTS ALFREDO1 cup of

Brussels

sprouts, trimmed and halved2 tbsp olive oil1/4 cup

pine nuts

egg noodles1 jar of your favorite

Alfredo

sauce*salt and pepper, to tastePreheat oven to 400 degrees. Place

Brussels

sprouts on a baking sheet.

Drizzle

with olive oil and season with salt and pepper. Roast in the oven, turning once, until sprouts are tender and have developed color. Remove from heat.Prepare pasta as directed. Drain. Add

Alfredo

sauce and roasted

Brussels

sprouts, gently stirring to combine. Season with salt and pepper, to taste. Meanwhile, toast

pine nuts

in a dry skillet until browned. Sprinkle

pine nuts

over side dish at service time.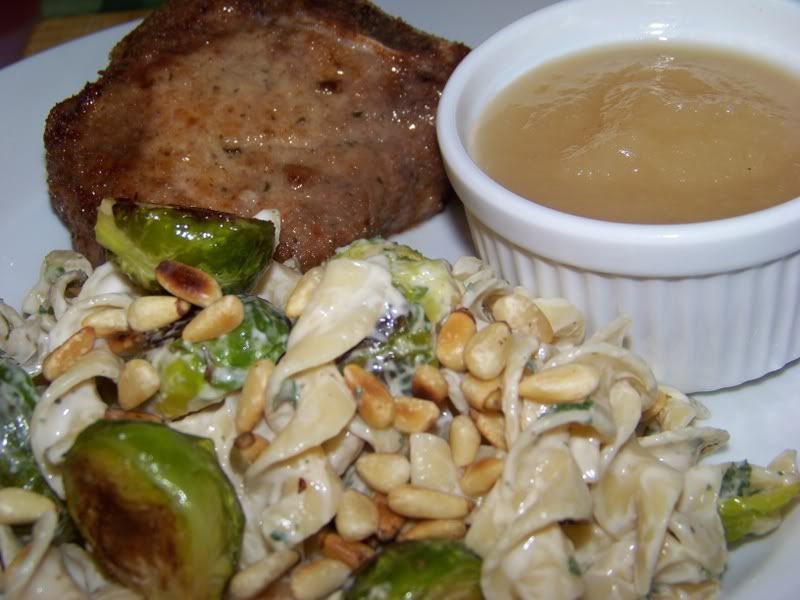 I served this pasta side dish alongside breaded and baked bone-in pork chops and applesauce.
The meal itself was pretty darn fantastic! The pasta satisfied that need for something "creamy" without dominating the plate (as I am being very mindful of portion control), and the
pine nuts
added just a touch of crunch. And, the whole meal was done in about 30 minutes - including roasting time, which also makes it great for a weeknight dinner.
*To make this more of a main dish, add some

pre

-cooked chicken to the final product.