I realized the other day that it has been a very long time since I made any kind of soup for dinner. It's time for soup!!! The days are cold and blustery and there is nothing better than coming in from outside with a hot bowl of satisfying soup. Gentle warmth from the inside out.
Eating healthy has had it's challenges. I prefer creamy soups as opposed to clear soups, so I am trying to psych myself out and change my preferences - without sacrificing flavor and texture. Substituting a leaner chicken breast or turkey breast meatball for a beef meatball is a smart and healthier choice. I'm most surprised by how tasty the low sodium or sodium-free chicken stocks are! I thought they would be very bland and watery, and that is just not the case. I've also focused more on eating
colors
. Red beets, purple cabbage, green spinach, orange carrots - - a rainbow on your plate signifies health and well being.
If only I would stop procrastinating and get myself to the gym!
What was I talking about? Oh yes! Soup! The following soup has become an instant classic in my kitchen. It was easy to prepare, tasty, reheats well and kept me full for the rest of the night due to the high protein content of the turkey meatballs.
TURKEY MEATBALL, ORZO AND ESCAROLE SOUP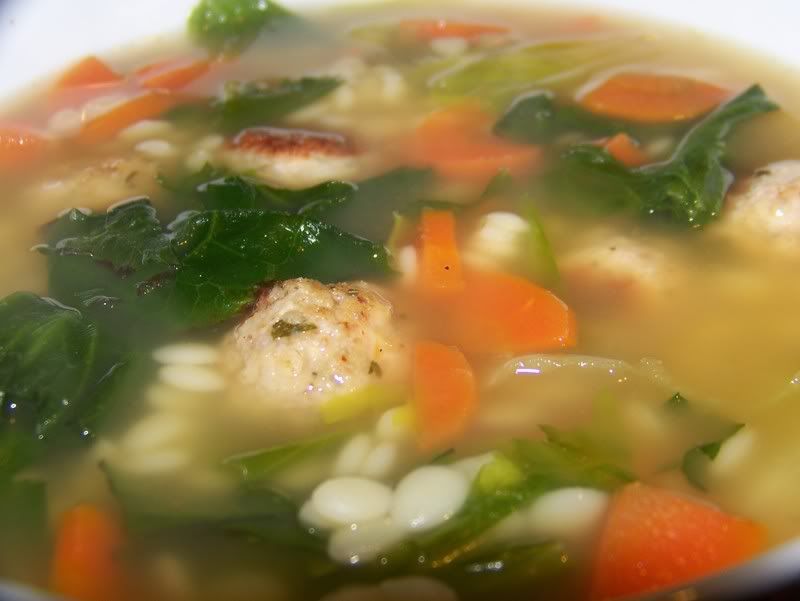 For the meatballs:
1 lb ground lean turkey breast1 cup Italian style bread crumbs2 whole eggs1/2 cup grated parmesan cheese1 tsp onion powder1 tsp garlic powder1 tbsp dried parsley1 tsp paprikasalt and pepperPreheat oven to 375 degrees.Add all meatball ingredients in a large bowl, and gently combine with your fingers. Do not overmix! Form meatballs into 1 inch balls and place on an oiled baking sheet. Bake in the oven for approximately 20 minutes, shaking the baking sheet halfway through the cooking process. Remove from heat and let cool. Leftover cooked meatballs can be frozen for up to 3 months in a zip lock freezer bag.
For the soup:
Prepared Turkey Meatballs1 1/2 cups chopped carrot1 cup dried orzo8 cups chicken stock4 cups roughly chopped escarolesalt and pepper, to tastewater, if neededIn a large stockpot, bring chicken stock to a boil. Reduce heat to a simmer, and add carrots and orzo. Cook for 10 minutes. Add turkey meatballs and escarole. Cook until meatballs are completely heated through and escarole wilts into the soup. (Add water, if soup is not broth'y enough.) Season with salt and pepper. Serve with some bread of your choice. My choice was a 9-grain breadstick, so easy dipping.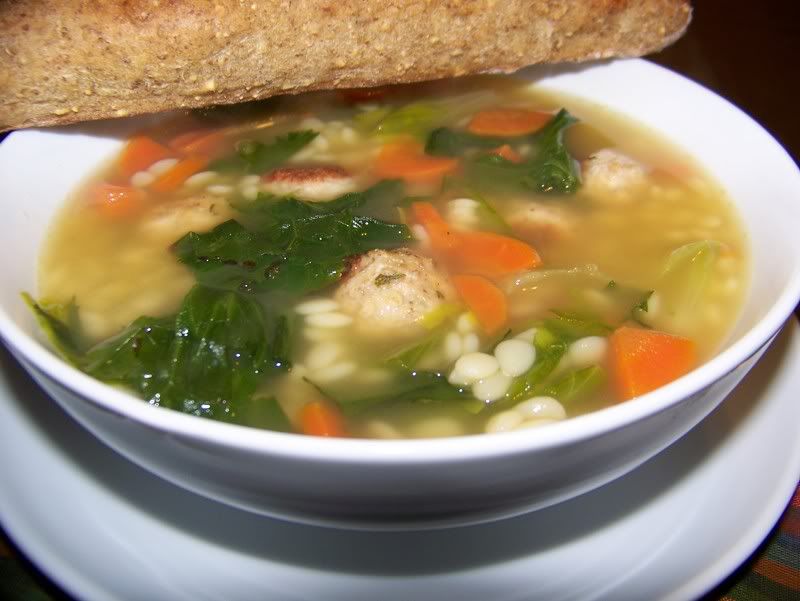 The meatballs provided the biggest flavor punch with just a hint of garlic in the background, and the carmelized texture from baking them in the oven. The orzo was nice and tender. My only change would be exchanging the escarole for spinach, as I prefer the taste of spinach to the other. (Escarole is a lettuce, and even though it does wilt into the soup, it still keeps a watery crunch.)