I'm sure I mentioned it before now, but Nathan is 1/2 Korean - so Korean food has quickly become one of my favorite cuisines. I have a particular love for BiBimBob, and order it (almost) every time we go out to our favorite Korean restaurant. To me, it's the most perfect meal. You can eat a lot of it, and not get that "
I'm going to slump into a coma
" full feeling.
BiBimBob is basically a loaded salad covered in a spicy bean paste and served alongside some steamed white rice. BiBimBap is the same thing, only it is served over rice in a hot stone bowl, so the rice becomes crunchy on the bottom. I prefer soft rice, and don't enjoy the whole stone bowl thing, as I often suffer burns while trying to eat out of it. Seriously!
BIBIMBOB

(Kat style)
4 portions

1 6oz. beef tenderloin steak, sliced thin
2 big handfuls of baby spinach
1 handful of fresh bean sprouts
6 oz. fresh shiitake mushrooms, stems removed and sliced
1 carrot, peeled and grated
4-6 cups of chopped romaine lettuce
1/4 cup diacon radish, peeled and grated
2 green onions, sliced
4 chicken eggs
3 tbsp vegetable oil
toasted sesame seeds, for garnish
8 tbsp
Gochujang
4 tsp water
Prepared rice
Kimchee (a must!)

Heat oil in a large skillet. Brown beef, and set aside. In the same skillet, bring 2 cups of water to a boil. Drop in spinach, carrots, diacon and mushrooms. Cook until spinach is wilted. Drain from boiling water and set aside.

Meanwhile, distribute chopped romaine between 4 bowls. Top each bowl with beef, and blanched vegetables. Add bean sprouts and green onions. Mix together gochujang with water and divide into 4 small condiment cups.

For added flair right before service, add 1 egg yolk (or gently fry an egg if you do not want to do the raw stuff) to the middle of the bowl on top of the vegetables.
Top with toasted sesame seeds.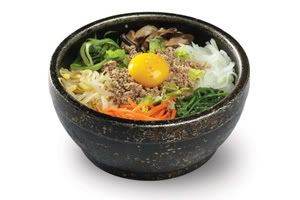 To eat: break the egg yolk and mix in the gochujang mixture. Enjoy with rice and kimchee, and a
dumpling
or two!
I also tried my hand at a little vegetable (carrot, red pepper and cucumber) rolled sushi, which wasn't as bad as I anticipated. I couldn't find the wasabi that I purchased a couple of weeks ago, until after our meal was over. Turns out it was right in front of my face. Figures.