For years, Nathan has been telling me that he does not like chocolate. I always chuckle when he makes this statement, because he is totally fooling himself! Case in point, whenever we go out to dinner and treat ourselves to dessert, he picks whatever delicious confection has "chocolate" in the title. Naturally I do too - but I'm not lying to myself over my likes and dislikes! I gently remind him of his
total apparent dislike
for chocolate when he's on his last bite.
Last night, he succumbed and admitted that he is a chocolate fan.
I've been wanting to try my hand at Chocolate Mousse for some time now. Mousse is supposed to be cloud-like, yet rich...and the recipe that I found looked very easy, with only a couple of ingredients and steps. And you know what? It came out amazing!!! I may use a milk chocolate instead of bittersweet chocolate next time, since it was a little too bitter for my tastes - but the end result was light and fluffy, and the perfect ending to a light meal.
BASIC CHOCOLATE MOUSSE

3 large egg yolksPinch of salt2/3 cup whole milk12 ounces imported milk chocolate, finely chopped1 teaspoon dark rum (optional)
1 1/2 cups chilled whipping cream, divided
Dark chocolate shavings (for garnish)Whisk yolks and salt to blend in medium bowl. Bring milk to simmer in medium saucepan over medium heat.
Temper
milk into eggs, then gradually whisk tempered eggs to hot milk into yolk mixture; return to same pan. Stir over low heat until custard thickens, about 1 minute (do not boil). Remove from heat; add chocolate. Whisk until chocolate melts and mousse base is smooth; whisk in rum. Cool 45 minutes on the counter. Beat 3/4 cup cream in bowl until peaks form;
fold
into mousse base. Place prepared mousse in service cups, cover with plastic wrap; chill at least 4 hours. (This mousse is extremely rich, so don't go overboard filling your vessels...)Before service, beat 3/4 cup cream in another bowl until peaks form. Drop a dollop of whipped cream onto mousse and sprinkle with chocolate shavings. Serve!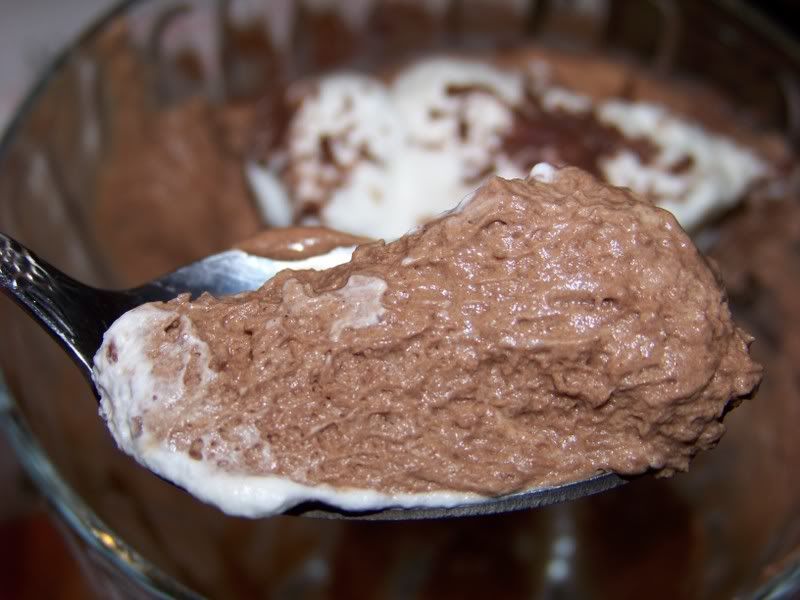 I wish I had taken a before picture of the finished dessert, because it was so impressive...but we were both too excited to dig that we didn't stop to think first.