There are more than 24 billion chickens in the world. (My bit of fact finding for the day!)
When we were little, it seemed like we ate chicken - in some form - every single day for dinner. My mother would say "there are so many ways to cook it" if we dared to complain in her presence. She was, and still is, so wise.
Last night, I made a new recipe I found on
www.landolakes.com
.
BBQ CHICKEN BUNDLES OF GOODNESS



boneless, skinless chicken breasts
2 pieces of uncooked bacon, per chicken breast
4 cheddar cheese slices
1/2 cup of your favorite BBQ sauce

Preheat oven to 400 degrees.*

Prepare the chicken by
butterflying
the breast to open it up. Place a slice of cheddar cheese on the inside of the breast, and carefully fold breast around itself, to create a little bundle. Criss-cross two slices of bacon around each chicken and cheese bundle. Secure bacon with a toothpick. Cook in the oven for 30 minutes. After the 30 minute mark, baste each bundle with BBQ sauce. Rebaste every 5 minutes, until your total cooking time reaches 50 minutes. Serve warm!

*You can also prepare this dish on the grill, using the same method. Enjoy those famcy grill marks! Breasts can also be prepared in advance, and kept in the refridgerator until you are ready to cook. This will cut down on prep time substantially.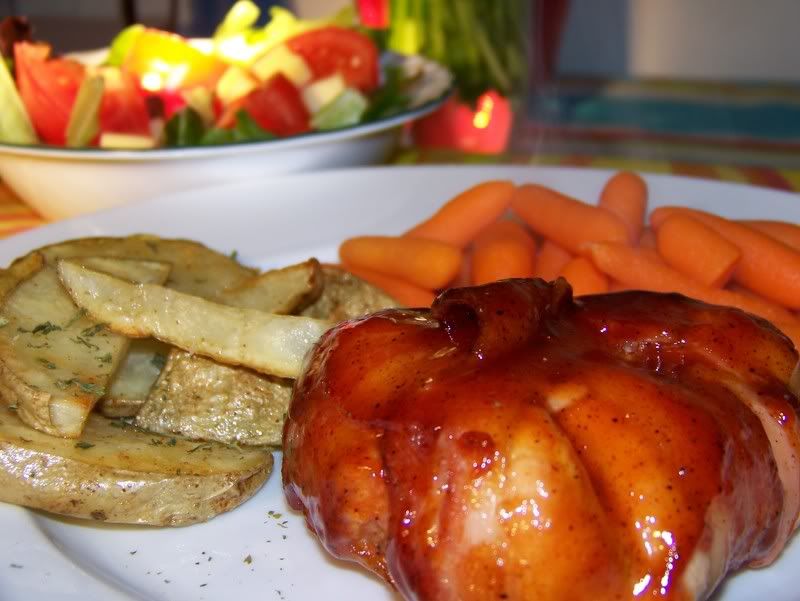 I can not believe the flavor that came out of this small bundle of goodness! The bacon was still a little soft, and so easy to slice through with a butter knife. And, that cheesy center added that extra touch of suprise that sent Nathan into heaven. I was lucky enough that none of the cheese escaped during the cooking process due to my successful wrap job. The chicken bundle literally looked like a little package!
The fragrance that graced the house the rest of the evening was to die for. There is nothing like bacon.