Patti
gave me a wonderful recipe a couple of years back, that I immediately filed away in my "to make again" box. It's creamy, filling and flavorful, and a great use of leftover chicken.
PATTI'S SOUR CREAM ENCHILADAS
Flour tortillas1 jar of salsa verde (I use red salsa, because I can't find the other)1 onion, finely chopped2-3 cups of cooked, cubed chicken1 small tub of sour creamshredded mozzarella cheesea couple handfuls of fresh cilantro (flat leaf parsley also works well if you do not like cilantro) Preheat oven to 350 degrees. In a food processor, combine 1/2 jar salsa, sour cream and cilantro until smooth. Set aside.In a medium bowl, combine chicken, onion and the other 1/2 jar of salsa. Mix until combined. Seat aside.Place a cup of the sour cream mix in the bottom of a 9x13x2 inch baking dish, spreading evenly so the entire bottom is coated completely. Take one tortilla, and place about 1/2 cup of the chicken filling in the center. Fold the tortilla sides in, and roll up, enclosing the filling. Place tortilla, seam side down, in the baking dish. Repeat as necessary. Pour the rest of the sour cream mixture over the wrapped tortillas. Cover with shredded mozzarella cheese. Cover entire dish with foil, and bake for 20 minutes. Remove foil, and resume baking for another 10 minutes, until cheese is melted, and sauce is bubbly. I served ours with a nice house salad.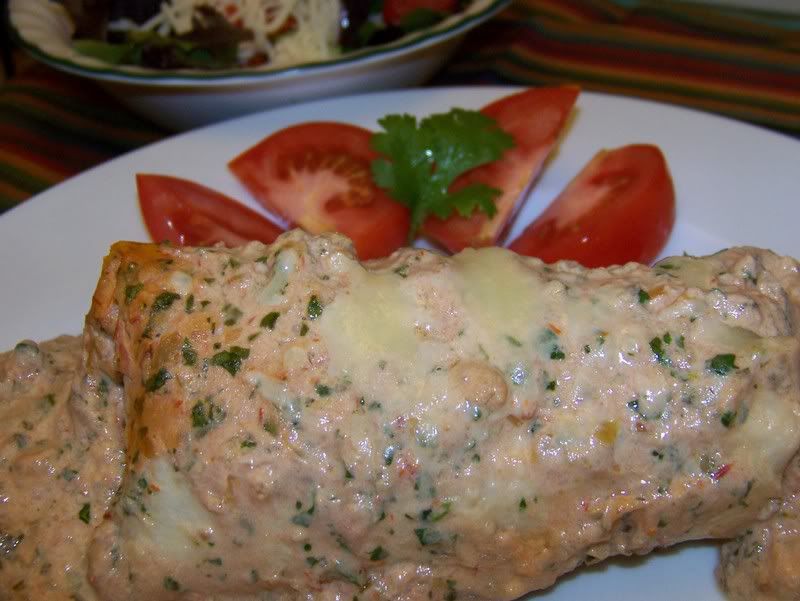 If you haven't done so, go and check out Patti's food blog!