Me: Hey, what do you want for dinner?
Nate: I don't know...whatever you want to make.*
Me: Seriously?! You don't have any opinion?!
Nate: How about that chicken dish that was your grandmother's favorite.**
Me: Chicken Divan? Alright. I have to stop at the store though.
Nate: Yeah. I like that meal.
*This is Nathan's normal response.
**This is also Nathan's normal response. I'm not sure if he just really doesn't care what he eats, or he has a really bad memory and can only remember this one dish when grilled for ideas. This is seriously his only suggestion
WHENEVER
I ask his opinion. Frustrating!
Usually I have all the ingredients for this meal on hand, since it is all canned and frozen food. Not this time...I had to make a little run to the grocery store. I wish I had paid closer attention to my pantry however, since I had to make a second trip to pick up an essential element of the dish - the rice. How I ran out, I'll never know. It's a darn good thing the store is only a couple of blocks away. This dish is the ultimate in comfort food. Whenever I want to remember my Meme, I make this. Whenever I feel under the weather, I make this. It does take a little time (to precook some of the ingredients) but it is soooo yummy to my tummy!
Without further ado -
try not to focus on the fat content in this recipe, or the artery clogging ingredients...I promise, it is well worth the risk
:
CHICKEN DIVAN



4 boneless, skinless chicken breasts
1 large (or 2 small) packages of frozen broccoli spears (you can also use fresh broccoli)
2 cans cream of chicken condensed soup
1/2 cup mayo
1 cup milk
1 tbsp curry powder1 cup of shredded cheddar cheese1 cup Italian style bread crumbs2 tbsp melted butterblack pepper, to tastePreheat oven to 350 degrees.Meanwhile, bring a pot of water to a boil. Cook broccoli spears until crisp tender. (Do not overcook them, as you will finish them off in the oven!) Remove broccoli and arrange on the bottom of a 9x13x2 inch baking dish. Place raw chicken in the same water, and boil until completely cooked through. Take chicken out, and arrange on top of the broccoli.In a large bowl, mix together soup, milk, mayo, curry powder, pepper and 1/2 cup cheddar cheese. Pour evenly over chicken and broccoli. Top with the rest of the cheddar cheese, and breadcrumbs. Finally, drizzle the melted butter over the top of the whole mixture.Bake 40 minutes. Serve over prepared white rice.
I've also made this dish as a side, cutting the recipe in half, and omitting the chicken.
Look how creamy!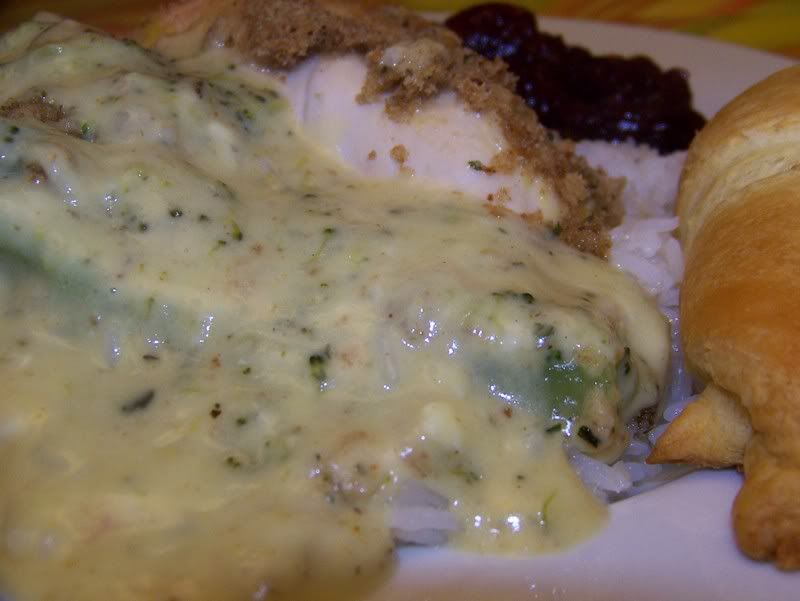 It's absolutely delicious, and so satisfying. I paired it with some whole cranberry sauce (can) and a butter croissant (Pillsbury).