It's winter. I have to keep reminding myself that. It's pretty hard to wrap your brain around the idea of winter when it is almost 70 degrees out...and I'm not talking about living in Florida. I'm in NYS people! As a friend as recently said "Global Warming Rocks!" (Not really.)
Winter is a time for soup, stews and all things hearty. But, when it's 70 degrees all you want to eat is fruit salad and popsicles! But, I decided to tough it out and make something new - throw caution to the wind, if you will. Heck, even though it is feels like Spring...soup is on the menu, and I am not changing it!
Funny thing is, when I took the dog out for a walk after dinner, it was COLD! My soup brought in the season!
CREAMY LEEK AND POTATO SOUP
2 leeks (white and green parts), chopped and
cleaned

1 small onion, diced
3 tbsp olive oil
1 tbsp butter
1 garlic clove, finely minced
5 russet potatoes, peeled and diced into cubes
16 oz. (1 box, or two cans) of chicken stock
1/2 -1 cup of half & half
salt and pepper, to taste
pinch of nutmeg

In a large stock pot, heat oil and butter. Add onions, garlic, leeks and potatoes, and cook - stirring continually - until onions are translucent. Add chicken stock and bring entire mixture to a boil. Cook until potatoes are fork tender. Take off heat.


Use either an immersion blender, or a food processor, and blend all contents (I received an immersion blender for Christmas, and it is fabulous!!!! Thanks mom!) into a smooth consistancy. Add enough half & half to achieve the color and texture you would like. Season with salt, pepper and nutmeg. Bring mixture back to a boil, and serve.Garnish with fresh chopped herbs, or a dollop of sour cream. I used a little grated cheddar for some bite.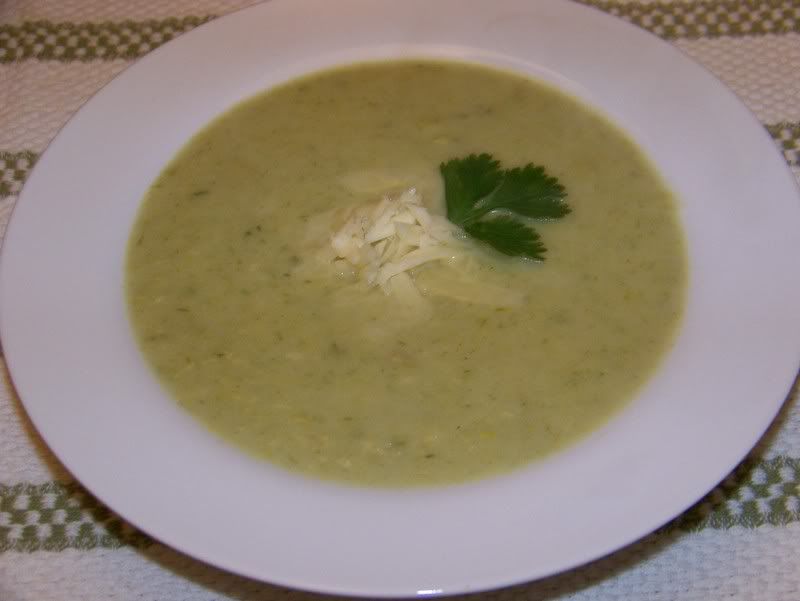 I can not believe the flavor that the leeks brought to this soup - besides giving the dish a nice mellow green color. (I guess you can only use the white part of the leeks if you want the soup
not
to take on that verdant color.) The potatoes also made the soup very filling, and the leeks gave it this sweet semi-onion flavor that was very subtle and nice on my palate.
This is one of those dishes that you want to package up and bring to someone to try. I had to hold myself back from showing up at my mother's house with a tupperware full of soup she can't eat (due to her wacky diet)!