I sat looking at this recipe for an hour, I swear...there were so many words and it looked so complicated. I had some experience with a
Checkerboard Cake
that yielded wonderful results, and was not as hard as what I am imagined (or read). I bucked it up and decided to use my brain and threw the directions into the trash! You don't need to read all of those words either...so I posted my own abreviated directions below.
FESTIVE CHECKERBOARD COOKIES
1-1/4 cups butter, softened
1 cup packed brown sugar
1/2 cup sugar
2 eggs
1/4 tsp vanilla extract
4 cups all-purpose flour
1 tsp baking powder
1 tsp salt
1/4 tsp baking soda
Red food coloring

In a large mixing bowl, cream butter and sugars. Beat in eggs and vanilla. Combine flour, baking powder, salt and baking soda; gradually add to creamed mixture. Divide dough in half. Tint one portion red and leave the other plain. (At this point, you can flavor the red portion with a touch of peppermint extract, if you would like.) Form each dough portion into a 6 inch long by 2 inch wide log. Wrap red and plain portions separately in plastic wrap; chill for 2 hours or until stiff. Preheat oven to 375 degrees. Using a sharp knife, slice 8 to 10 - 1/2 inch strips lengthwise off of each log. Stack the strips in groups of four, alternating plain and red strips, until you have 4-5 rows of alternating colors. Press together gently. Cut dough into 1/4 inch slices. (If you would like to cut into specific shapes, do so at this time...) Place 1 inch apart on ungreased baking sheets. Bake for 9-11 minutes or until set. Remove to wire racks to cool.
(I cut out about 2 paragraphs from the original recipe there!)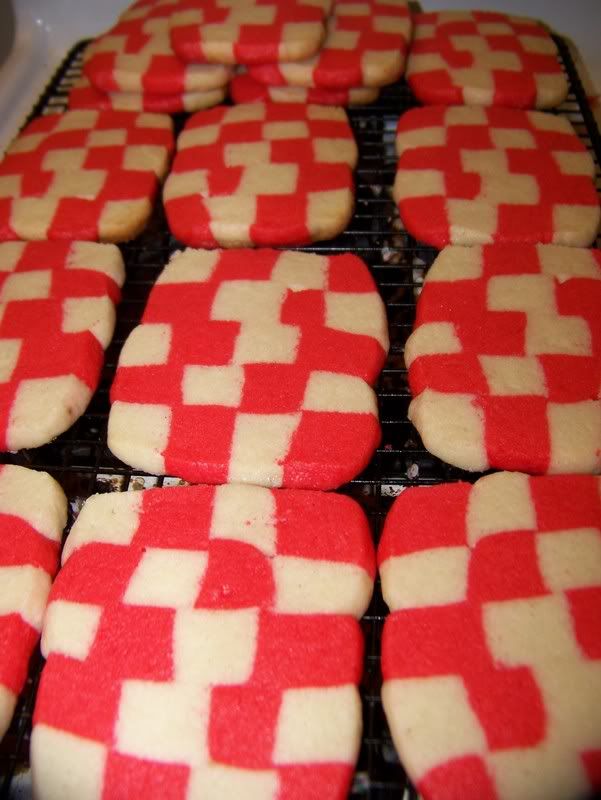 These cookies will make your family and friends squeal for joy, then wonder aloud how you made such a cookie. You don't have to tell them how easy it actually was!