2 ingredients are all you need to make dipped nuts (of any kind). I prefer peanuts because I really like that peanut and chocolate combination. (Who doesn't?!) You can totally play around with this technique, substituting white or dark chocolate, or adding pecans instead of peanuts. Last year, I drizzled a little bit of white chocolate or a marbled effect. Whatever you decide to do - definitely make these at home...it's a shame to spend $9.99 a pound on dipped nuts at your local Candy Shoppe.
NUT CLUSTERS
1 12 oz package of chocolate chips
2 cups chopped nuts of your choice
Place chocolate chips/pieces in a heavy saucepan over low heat, stirring constantly until melted. Stir in nuts. Spoon mixture by rounded spoonfuls onto a baking sheet lined
with waxed paper. Chill until firm. Store in the refrigerator.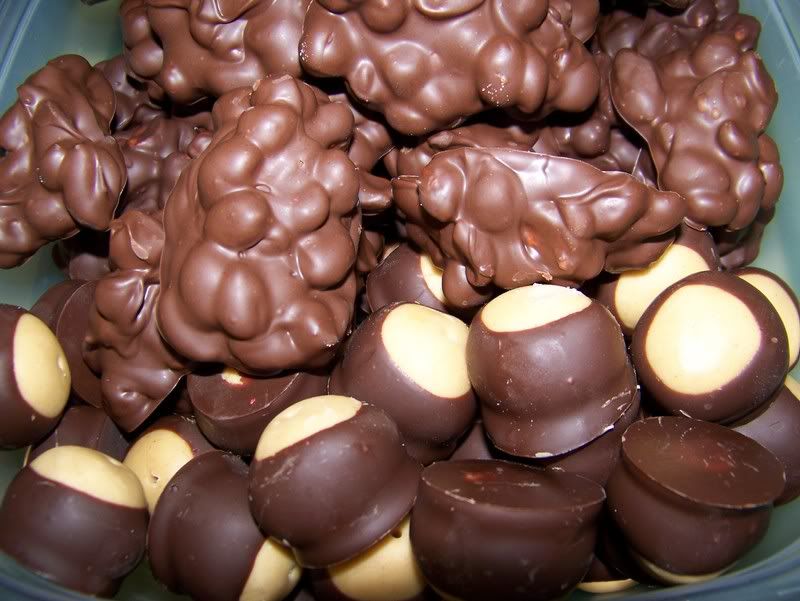 I've never seen anyone turn down a peanut butter cup, and the same holds true for no-bake Buckeye cookies at Christmas time. They are the perfect two bite treat, and they have great stage presence on any cookie platter. The peanut center is smooth and sweet, and the chocolate outside is firm and delicious.
BUCKEYES
3/4 cup butter, no substitutes
3 1/4 - 3 3/4 cups confectioner's sugar
1 cup peanut butter
1 tbsp milk
1/2 tsp vanilla
16 oz. semisweet chocolate chips
1 tbsp shortening
Melt butter in a small saucepan over low heat. Combine melted butter and 2 cups of confectioner's sugar in a medium mixing bowl. Beat until smooth. Add peanut butter, beating well until combined. Stir in milk and vanilla. Beat in enough of the remaining sugar to make a firm, crumbly-looking mixture.
Roll dough into 1 inch balls. Arrange on a lined tray; insert toothpick into the center of each ball and chill for at least 30 minutes. (The step is crucial - by chilling the cookies, the toothpick will remain firmly in the center while you are dipping them.)
Meanwhile, melt chocolate and shortening in a heavy saucepan over low heat. Cool slightly. Dip 3/4 of each ball into the chocolate mixture, so that the ball resembles a buckeye. Place balls, undipped side up, on a tray lined with a silpat or waxed paper. Chill until chocolate becomes firm. Store in the refrigerator.