I was never a fan of white chili, or chicken chili - until I decided to take matters into my own hands and fool around with a recipe of my own. What I came up with was creamy and flavorful and satisfying for a cold night, and completely changed my mind about chicken chili forever.
CHICKEN CHILI
(Be forewarned - this recipe will make enough to feed a freakin' army!)
1 pre-cooked rotisserie chicken, white and dark meat removed and shredded (or roast your own if you have the time!)1 large onion, diced2 garlic cloves, finely minced1 green bell pepper, diced2 tbsp extra virgin olive oil1 tsp cayenne pepper1 tbsp dried oregano1 tsp cumincouple of grates of fresh nutmeg1 carton of chicken stock1/2 cup sour cream3 cans of Northern White Beans, drained but not rinsedsalt and pepper, to taste2 tbsp fresh parsley, roughly choppedHeat oil in a large stock pot over medium high heat. Add onion and garlic and cook until onion becomes translucent. Add in all dried herbs and spices - the cayenne pepper, oregano and cumin and cook for a couple of minutes longer to develop the flavors. Add shredded chicken, beans, peppers and chicken stock. Bring to a simmer, stirring occasionally.Just before service, turn off heat and gently stir in sour cream, nutmeg and season with salt and pepper. Sprinkle with fresh parsley. Eat as is, or serve with steamed white rice.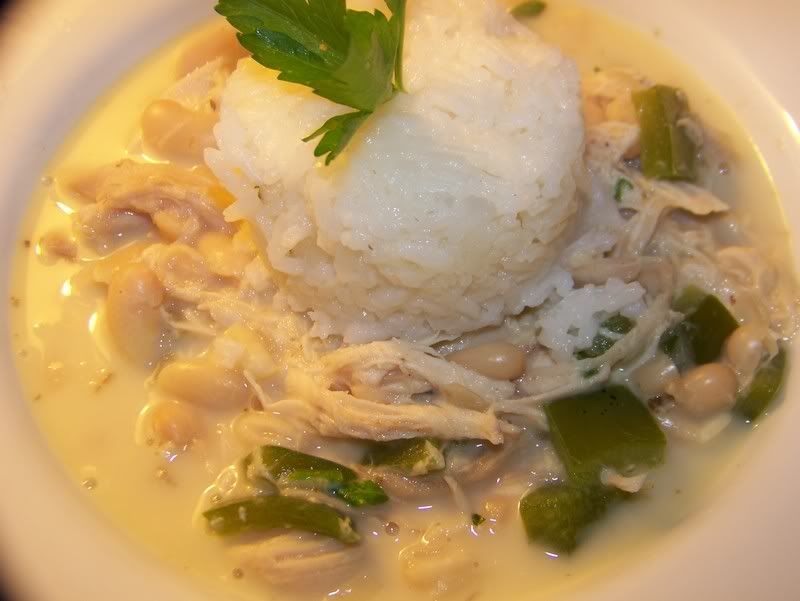 The beans add just enough starchiness to thicken the chili and the tiny bit of sour cream adds a nice richness that rounds out the dish. I added a bit more cayenne pepper - which ever so slightly added some gentle heat to the back of your throat. Next time, I will add some chopped carrot into the mix for a little more color and pizazz. YUMMY!