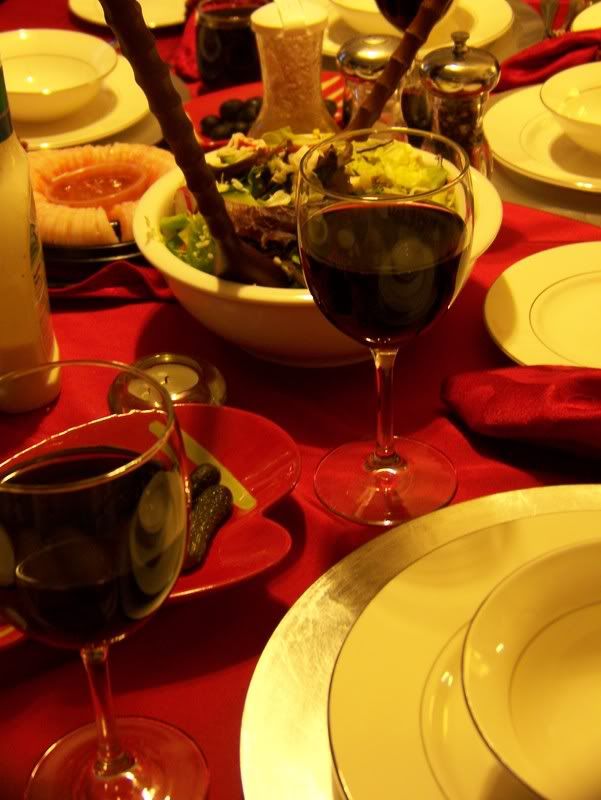 My family's Christmas tradition was thrown out the window this year when my mother decided to have dinner with the steps - leaving me and my sister to fend for ourselves. We tried to make the best of it, and I invited my sister and her children to celebrate at our tiny apartment. We set up two card tables, I bought some new dishes and linens and tried some interesting recipes full of fat and flavor! And, you know...we had a great time. My mother better watch out, because we may have started a whole new tradition without her! (One that includes wine!)
Christmas Dinner Menu:
Risotto Cakes -
your favorite
risotto
recipe, chilled, rolled into
balls
and flattened, then pressed into Italian-style breadcrumbs and fried in oil. Se
rve with a simple salad and a sprinkle of freshly grated Parmesan cheese to bring it on home.
Olives / Sweet Baby Pickles
Shrimp Cocktail
Onion, Apple and Potato Gratin
Slow Roasted Prime Rib with a Madeira Wine Au Jus
Roasted Baby Carrots with Herbs
White Chocolate and Spiced Pear Tiramisu
It was heavenly. Especially dessert.
And, now for your blogging pleasure....the recipes:
ROASTED PRIME RIB with a MADEIRA WINE AU JUS

1 9- to 9 1/2-pound prime rib beef roast, excess fat trimmed

1 tablespoon olive oil

6 medium onions, peeled, quartered

2 1/2 cups beef broth

1 3/4 cups Madeira

1 1/4 cups dry red wine

4 large fresh thyme sprigs

4 large fresh parsley sprigs

3 large fresh rosemary sprigs

1 bay leaf
Position rack in center of oven and preheat to 450°
F. Place beef, fat side up, on heavy large rimmed baking sheet. Rub with oil; sprinkle generously with salt and pepper. Roast beef 20 minutes. Reduce oven temperature to 350°F. Place onions around beef. Continue to roast until
thermometer inserted into center of beef registers 125°F for medium-rare, stirring onions occasionally, about 2 hours 5 minutes.


Meanwhile, combine broth, Madeira, wi
ne, thyme, parsley, rosemary, and bay leaf in medium saucepan. Boil until mixture is reduced to
2 cups, about 25 minutes. Remove from heat. Discard herbs.
Transfer beef to platter. Using slotted spoon, transfer onions to same platter; tent with foil. Let stand 30 minute
s.
Nothing goes better with a slab of pink beef, then a side of tender potatoes! I was going to do a regular old mashed/smashed potato, but that seemed a little on the boring side. Instead, I found a recipe that combined onions, apples and potatoes (3 classic flavors) - but still remained on the healthier side, omitting all of the cream and cheese from a traditional gratin. It was a gamble that paid off!
ONION, APPLE AND POTATO GRATIN


12 tablespoons (1 1/2 sticks) butter, divided

2 pounds onions, sliced

2 tablespoons (packed) chopped fresh thyme

4 teaspoons fine sea salt, divided

2/3 cup water

2/3 cup dry white wine
2 1/2 pounds Baby Yellow and Red potatoes, left unpeeled and cut into 1/4-inch-thick rounds

2 pounds Granny Smith Apples - peeled, halved, cored, cut into 1/4-inch-thick slices


Preheat oven to 400°F.


Butter 13x9x2-inch glass or ceramic baking dish. Melt 6 tablespoons butter in large nonstick skillet over medium heat. Add onions, thyme, and 2 teaspoons salt; sauté until onions are translucent, about 10 minute
s. Increase heat to medium-high; sauté until onions are tender and begin to color, about 8 minutes longer. Remove from heat. Add remaining
6 tablespoons butter, 2/3 cup water and wine to skillet; stir and swirl skillet to combine. Bring to boil. Cool onion mixture to lukewarm.
Combine potatoes, apples, remaining 2 teaspoons salt, and onion mixture in large bowl; toss gently to blend.

Transfer to prepared baking dish, spreading evenly. Cover dish with parchment paper, then cover with foil, shiny side down. Bake gratin until potatoes are tender, about 55 minutes. Uncover and bake until top browns and juices bubble thickly, about 20 minutes l
onger. Let gratin stand about 15 minutes before serving.
Last, but not least...DESSERT! The photo can speak for itself, no? Although this recipe was a tad time consuming, it was so worth it. The layers were creamy and delicious. I'm not a fan of white chocolate - but this recipe made me a believer for sure!
WHITE CHOCOLATE AND SPICED PEAR TIRAMISU
Spiced Pears:
1 750-ml bottle dry white wine
2 cups pear juice or pear nectar (Goya has a great pear nectar)
1 1/4 cups sugar
4 1-inch-diameter rounds peeled fresh ginger (each about 1/8 inch thick)
2 cinnamon sticks, broken in half
5 large firm but ripe Anjou pears, peeled and cut in half with stems and core removed
White Chocolate Mascarpone Mousse:
7 ounces high-quality white chocolate, finely chopped
1/3 cup poire Williams (clear pear brandy - beware, you are going to drop $20 for a small bottle - but I can't imagine substituting anything else)
1/4 cup water
1/2 vanilla bean, split lengthwise
1 8- to 8.8-ounce container mascarpone cheese (found in the specialty cheese case at the market)
1 cup chilled heavy whipping cream
Trifle Assembly:
3 3-ounce packages soft ladyfingers
2 cups chilled heavy whipping cream
1/4 cup minced crystallized ginger
White chocolate curls**
1 tablespoon powdered sugar

For spiced pears:
Combine first 5 ingredients in large saucepan. Stir over medium-high heat until sugar dissolves. Add pears and bring to boil. Reduce heat to medium, cover, and simmer until pears are just tender when pierced with knife, about 35 minutes.
Using slotted spoon, transfer pears to plate. Boil poaching liquid in heavy large saucepan over medium-high heat until slightly thickened and reduced to generous 1 1/2 cups, about 15 minutes. Strain into 2-cup measuring cup; discard spices in strainer. Cool. Cover and chill pears and pear syrup until cold, approximately 3 hours.
For mousse:
Combine white chocolate, pear brandy, and 1/4 cup water in top of double boiler set over simmering water. Stir until smooth (mixture will be very liquidy). Scrape in seeds from vanilla bean; discard bean. Transfer white chocolate mixture to large bowl; gradually add mascarpone, whisking until mixture is smooth. Cool mascarpone mixture until barely lukewarm.
Using electric mixer, beat 1 cup cream in medium bowl until peaks form. Fold whipped cream into mascarpone mixture in 4 additions. Cover and chill white chocolate mousse until set, about 3 hours.


Pears and mousse can be made 1 day ahead. Keep chilled.
For trifle assembly:
Cut pears lengthwise into 1/4-inch-thick slices.
Arrange ladyfingers, rounded sides down, in single layer in bottom of 12-cup trifle dish (about 8 inches in diameter and 5 inches deep), covering bottom completely (using about 15 ladyfingers). Drizzle 5 tablespoons pear syrup evenly over ladyfingers. Using small offset spatula, spread 1/3 of white chocolate mousse over ladyfingers, making layer slightly thicker around outer edges of dish to allow mousse to be more visible (center of mousse layer will be thin). Starting at outer edges of dish, place pear slices in single layer with curved edges against sides of dish atop mousse, covering completely. Repeat layering of ladyfingers, syrup, mousse, and pears 2 more times. Cover with fourth layer of ladyfingers (some ladyfingers and pear slices may be left over). Drizzle ladyfingers evenly with 5 tablespoons syrup.
Using electric mixer, beat 2 cups whipping cream in large bowl until soft peaks form. Add 1/4 cup pear syrup and beat until stiff peaks form. Working in batches, transfer cream to large pastry bag fitted with large star tip. Pipe rosettes all over top of trifle, mounding slightly in center. Sprinkle with crystallized ginger. Garnish with chocolate curls.
Sift powdered sugar over trifle just before serving.
**
To make chocolate curls, place one 3 1/2-ounce bar of white chocolate on a plate and microwave on high at 5-second intervals just until slightly softened, but not hot or beginning to melt. Using vegetable peeler and starting at one long edge of the chocolate bar, shave white chocolate into curls. If the shaved chocolate breaks into small shards, it's not soft enough, so place in microwave again for a few seconds. If the chocolate becomes too soft, let it stand at room temperature or chill briefly until it firms up a bit.