2 people.

18 pound fresh turkey.
4 1/2 hours cooking time.
Leftovers galore = PRICELESS

We're not totally glutenous...we planned for an entire week of leftovers when we bought such a large turkey for two people. Not only did we feast on hot open-faced sandwiches, but I also re-purposed some traditional items into entirely new dishes.
, meat
Who says that you need to roast the entire bird all at once? Before our
brine experiment
, I cut away one of the breasts and placed it in the fridge for the next day. Why? So that I could use the lean meat to make some homemade turkey meatballs! I just ground the meat myself in my food processor.
(Not Really) SWEDISH MEATBALLS
2 lbs ground turkey meat to substitute the ground beef in my
meatball
recipe.
1 medium onion, diced
1 garlic clove, finely minced
1 tsp olive oil
2 cups half & half
(the original recipe called for cream!)
1 cup reduced fat sour cream
1 (10 3/4 oz) can condensed cream of chicken, 99% fat free
black pepper
1 package of uncooked dried egg noodles
chopped fresh parsley, for garnish if desired
Follow meatball recipe in the link provided, substituting 2 lbs ground turkey in place of the ground beef, or make you own meatballs using your recipe...OR purchase a package of pre-made meatballs!
In a large skillet, sweat onions and garlic in olive oil over medium-high heat. Add the half & half, sour cream and chicken soup, stirring to combine. Add already cooked meatballs and continue to cook in skillet for 20-25 minutes, or until sauce begins to thicken. Meanwhile, prepare egg noodles as directed on package.
Season meatballs and sauce with a few grinds of fresh black pepper, and garnish with chopped parsley. Serve over eggs noodles.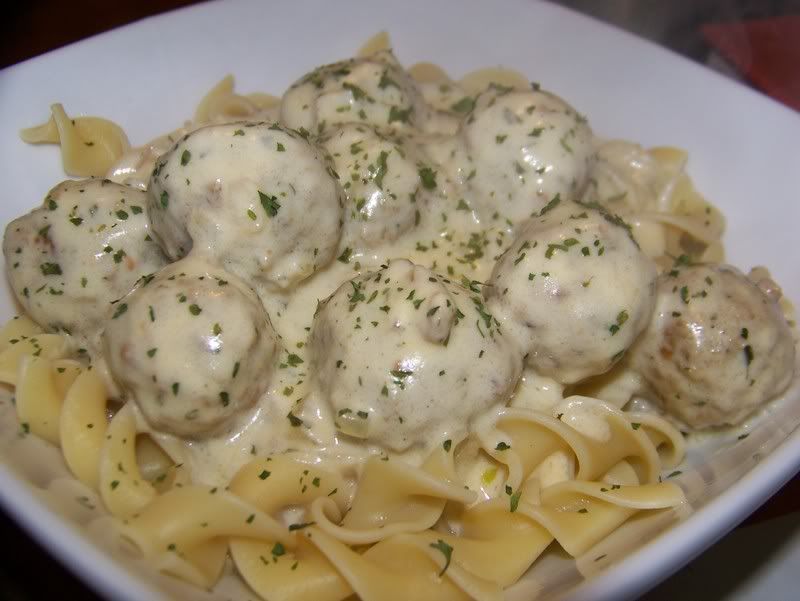 This dish satisfies that creamy texture I was craving - but still remained on the healthier side, since I used fat-free or low-fat ingredients and lean turkey breast meat in the meatballs. Be forewarned that the turkey meatballs will have a slightly different texture than beef or pork meatballs traditionally used in Swedish Meatballs. Plus, it was totally different than the other turkey meals we had after Thanksgiving!!! It was a total curve ball!