Two of the most wonderful things in the world!
Yesterday, I asked Nathan what he wanted for dinner. Usually he gives me no kind of imput what-s0-ever, but this time he answered with "that meal with the proscuitto and pasta." Luckily we speak a similar language, and I was able to decipher what the hell he meant!
I never like mac and cheese, until I made it for myself. This recipe was modified a bit from Giada DeLaurentis - - and it is quite a keeper. I pull it out when I need to be blanketed with creaminess, or when I have younger (picky) guests coming over. It's also gourmet enough to satisfy people with more developed palettes.
RIGATONI

with

CREAMY BACHEMEL SAUCE

1 box dry pasta of choice, (I like rigatoni because it traps all of the goodness!) prepared according to package directions1 pint of whole milk1 stick butter1/2 cup flour1 cup white cheddar cheese (good quality)8 slices of proscuitto, thinly sliced1/4 tsp nutmegsalt and pepper, to taste1 tbsp melted butter1/4 cup bread crumbsPreheat oven to 350 degrees.Prepare pasta. Undercook slightly. Meanwhile, melt butter in a large skillet, or stockpot. Once butter is melted, whisk in flour and cook for 2 minutes so that the flour becomes nutty. Slowly whisk in milk until all is incorporated. Bring milk mixture to a boil, and season with salt, pepper and nutmeg. Shread cheese. Cut proscuitto into strips. Once milk mixture is thick enough to coat the back of a wooden spoon, add cheese and proscuitto. Take off heat. Add drained pasta and gently stir to coat. Pour everything into an ungreased 9x13x2 inch dish. Sprinkle top with bread crumbs, and top bread crumbs with melted butter. Bake for 25-30 minutes, or until dish is bubbly. Serve as a main or side dish!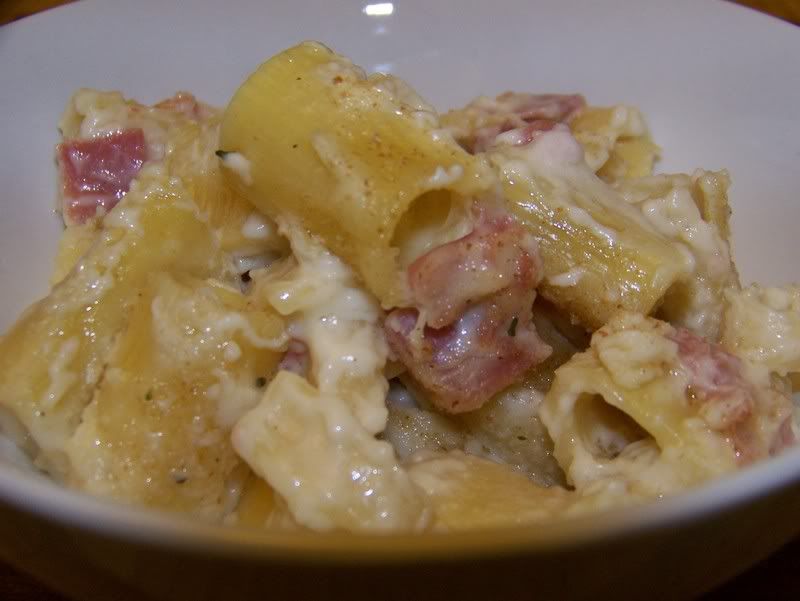 What's nice about this recipe is that it is easily interchangeable - you can use any kind of nice melting hard cheese - fontina or smoked gouda is awesome - and you can substitute the proscuitto for ham or bacon, or leave it out completely. The bachemel also works great as a staple for chicken lasagna, or even a simple, yet delicious, fondue.
I served this homemade mac and cheese along side a fresh garden salad.
To make the meal even that more special, I decided to try a recipe that I had been wanting to try out for ages...chocolate lava cakes! I found this very easy looking recipe on
www.kraftfoods.com
, and was incredibly impressed.
DARK MOLTEN CHOCOLATE CAKES



6 oz dark bittersweet chocolate*
10 tbsp butter
1 1/2 cups powdered sugar
1/2 cup flour
3 whole eggs
3 egg yolks
(You'd think there would be more ingredients, but that's it!)

Preheat oven to 425 degrees,

Grease 6 (6 oz) custard cups or souffle dishes. (I used my large muffin tin!)

Microwave chocolate and butter in a large heat safe bowl for approximately 2 minutes, or until butter is completely melted. Stir with a wire whisk until chocolate is completely melted. Add powdered sugar and flour; mix well. Add whole eggs and egg yolks; beat until well blended. Divide batter evenly emoung prepared custard cups.

Bake 14-15 minutes. Let stand ONLY 1 minute.** Run a small knife around cakes to loosen. Carefully invert cakes onto dessert dishes. Sprinkle lightly with additional powdered sugar. Serve immediately!

Make ahead: Batter can be made in advance; pour into prepared custard cups. Cover with plastic wrap; refridgerate up to 24 hours. When ready to serve, uncover and bake as directed.
SOOOOOOOOOOOOOOOOOOOOOOOO GOOOOOOOOOOD!
*I didn't have any bar chocolate, but I had picked up some hershey's kisses (special dark) to fill our candy bowl. I just took some of those and used them in the recipe!
**Unfortunately, my mother came over just as I was taking the cakes out of the oven (she can't eat rich foods like this) and I didn't get to break into the dessert until 15 minutes passed. Carry-over cooking left the rich pudding-like center into a soft cake-like center. However, it was still excellent. Since it's so easy, I'll probably attempt the recipe again, only this time - - no interruptions!