Tiramisu is often described as "a cool, refreshing Italian dessert that once tasted, leaves an indelible impression." It's so true! I'm not a coffee fan (I know, I know - I just don't drink the stuff), but I love this dessert. It is light, yet satisfying, and so delicious with just a hint of liquor in the background. I made mine in the traditional way, with strong coffee, chocolate shavings, landyfingers, and mascarpone cheese. The recipe literally takes 10 minutes to put together, making it perfect for your next party. Plus, you don't need to heat your oven!
CLASSIC TIRAMISU



2 packages of
ladyfingers

16 oz. macarpone cheese
1 1/4 cups heavy cream
2/3 cup confectioner's sugar
1/4 tsp vanilla extract
1 cup strong coffee, or espresso
6 tbsp kahlua liquor
1 bittersweet chocolate bar*


Beat heavy cream until soft peaks form. In another bowl, mix together mascarpone cheese, confectioner's sugar, vanilla extract and 3 tbsp of the Kahlua liquor. Carefully fold in the heavy cream, until well combined. Set aside.

In a small, shallow bowl, combine kahlua and coffee.


Place a layer of ladyfingers into the serving dish (I used a triffle dish). Spoon 1/2 of the coffee mixture over the ladyfingers. Then, place 1/2 of your cheese mixture over the drunken ladyfingers. Grate some chocolate over the first layer. Begin your second layer with the ladyfingers yet again - spooning the rest of the coffee mixture over then, then covering with the rest of the cheese mixture. Finally, grate the rest of the chocolate on top.

Cover well with plastic and chill for at least 2 hours, or overnight - for best results.
The ladyfingers will become moist from the coffee, and the whole dessert will just bloom with flavor. Once you know the process, you can change up the recipe by using berries, instead of chocolate, and by replacing the kahlua liquor with a raspberry liquor! Or, you can mix in a little cocoa powder into the cheese mixture and make a chocolate tiramisu. The possibilities are as endless as your imagination.
*I used two devices to grate the chocolate bar...my microplane for small shavings, and a regular old vegetable peeler for the small curls. The curls made the presentation a little fancier.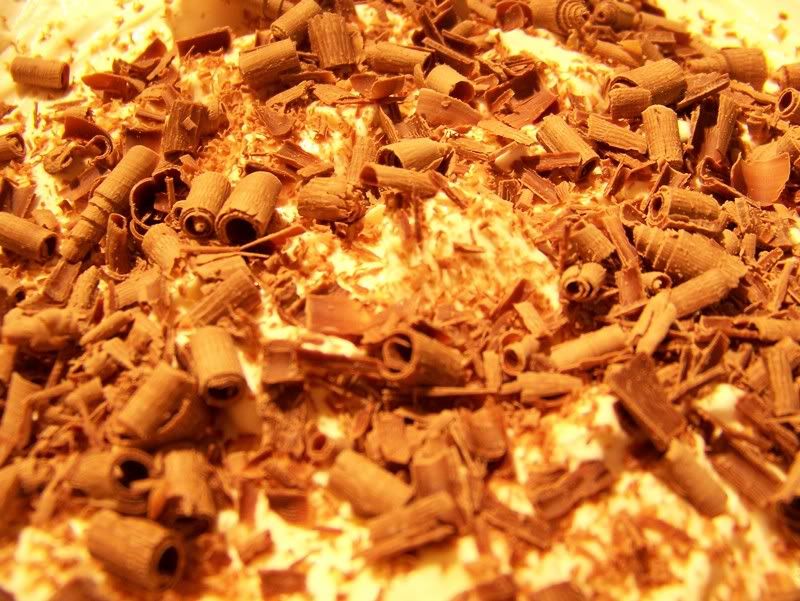 (Close up of the top layer)