Be forwarned - this recipe contains raw eggs.
GRILLED CHICHEN CAESAR SALAD (for 2)
1 garlic clove4 anchovy filets (packed in olive oil)2 fresh egg yolks1 tbsp dijon mustardjuice of 2 lemonssalt and pepper, to taste1/2 cup olive oil1/4 cup freshly grated parmesan cheese, plus extra for garnish2 tbsp water, if necessary2 boneless, skinless chicken breasts - butterflied2 heads of romaine lettuceItalian croutons - bought or homemade*Season chicken with salt and pepper. Grill until chicken is fully cooked through, turning once. "Tent" with foil, and set aside.In a food processor, place the anchovies, garlic, lemon juice, egg yolks, and mustard and process until mixture is smooth. With the food processor on, stream in olive oil slowly to emulsify. Stir in parmesan cheese, and add water if needed to achieve the consistancy you'd like. Season with salt and pepper. (Taste the dressing before you season though - the anchovies are salty, and you don't want to over-season!) To assemble the salad, wash, dry and tear your lettuce into a large bowl. Add enough dressing to coat to your liking. Plate with grilled chicken and croutons, then grate a little extra parmesan cheese for garnish.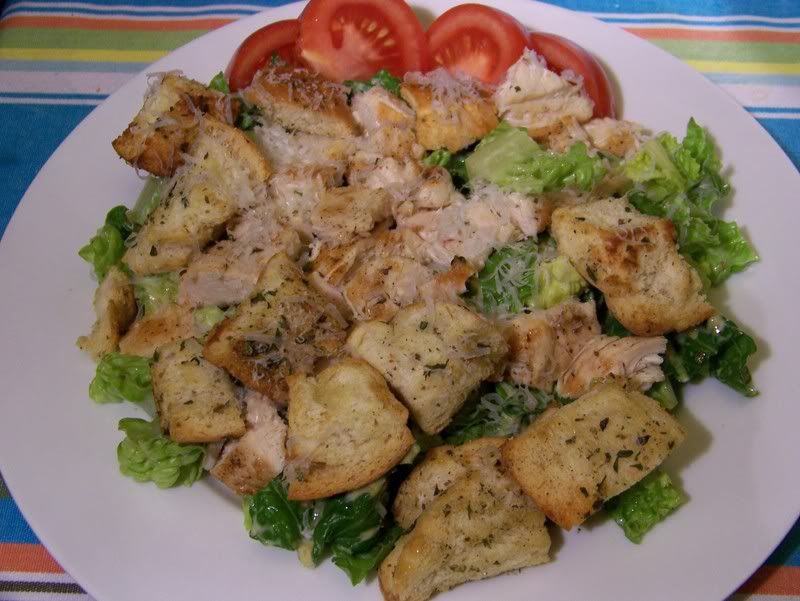 *If you are making your own croutons: Preheat oven to 350 degrees. Cube up some day old
Italian bread
. On a small cookie sheet, pile bread, drizzle with
olive oil
, and season with
salt, pepper, garlic powder, dried oregano
and
dried parsley
. Toss to coat. Bake in oven approximately 7-10 minutes, or until bread dries out and turns golden.
Remember...2 garlics cancel each other out. Even though there is only 1 garlic clove in the dressing, it is still *wicked* garlic'y!
Please don't be afraid of the anchovy!!! You would never know that it was in there. And, there is no fishy smell when you open the little tin they come in. Honestly, I was afraid - - and it was FINE. Seriously the best caesar salad I've ever had. I am so patting myself on the back with this one.