Because this week is packed full of work events, I really didn't sit down and plan a menu - so when I went to cook something Monday night I was at a loss! I had chicken...I had bread crumbs, and I had...not much else.
Searching through the pantry, I found dry roasted peanuts. The recipe I was craving called for honey roasted peanuts. Hummmmmmm. I can kinda make those right? Right!
I grabbed the
peanuts
, chopped them up loosely and threw them in a preheated skillet with a little
butter
, stirring often. Once they started to become fragrant, I added some
honey
, took them off the heat and mixed them well with about a tbsp of
sugar
. I'm a rock star!
On with the rest of the recipe!
PEANUT AND HONEY ENCRUSTED CHICKEN
4 Boneless, skinless chicken breasts
1 cup Italian style bread crumbs
1 cup of honey-roasted peanuts, chopped*
1/2 cup of flour
1 egg, beaten with a little water
4 tbsp vegetable oil

Preheat oven to 350 degrees.

Heat oil in a large skillet. *In a food processor, blend together bread crumbs and peanuts and pulse a couple of times, until they are well incorporated. Place bread crumb mixture into a shallow dish.

Form an essembly line, with flour in a dish, egg in a dish and bread crumbs in a dish. Dip each chicken breast in the flour, followed by the egg, then finished with the bread crumbs. Place each breast in the hot oil, and fry until just browned - turning once. Transfer each breast to a baking sheet and cook in the oven until chicken is completely cooked through, approximately 20 additional minutes.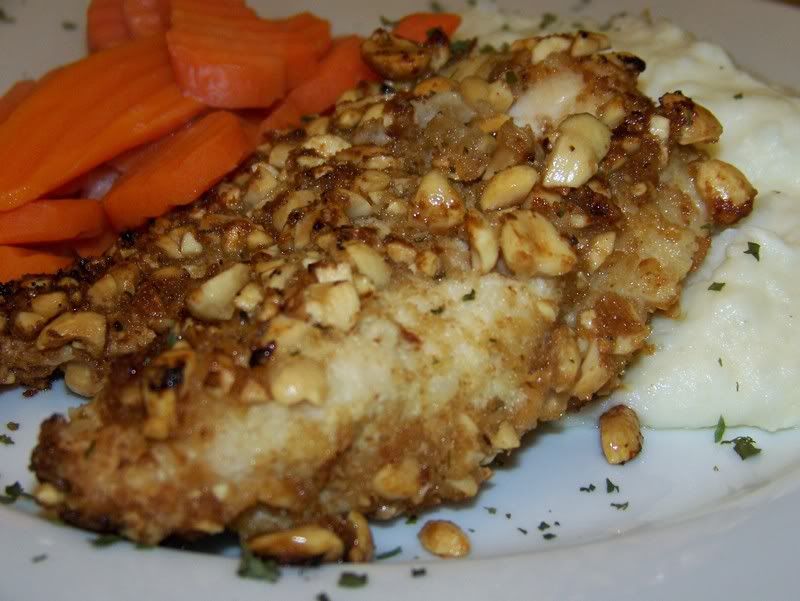 *I prefer the look and texture of a more rustic chop, so some of the peanuts are still whole. I like to identify what I am eating! However, process the mixture to your own tastes.
I served the whole thing with a little cream cheese mashed potatoes and come crinkle-cut carrots. Very simple - but very tasty. The texture of the chicken was extremely satisifying, and the peanut flavor was subtle yet added some marvelous texture.
(Plus, leftovers are wonderful , cold, on the top of a salad!)