My family had Christmas Eve dinner over at an uncle's house. This uncle happens to be a fantastic cook, and had everything planned to perfection...but, because I like to cook myself - I had to bring something.
I made and brought the most ridiculous thing I could come up with.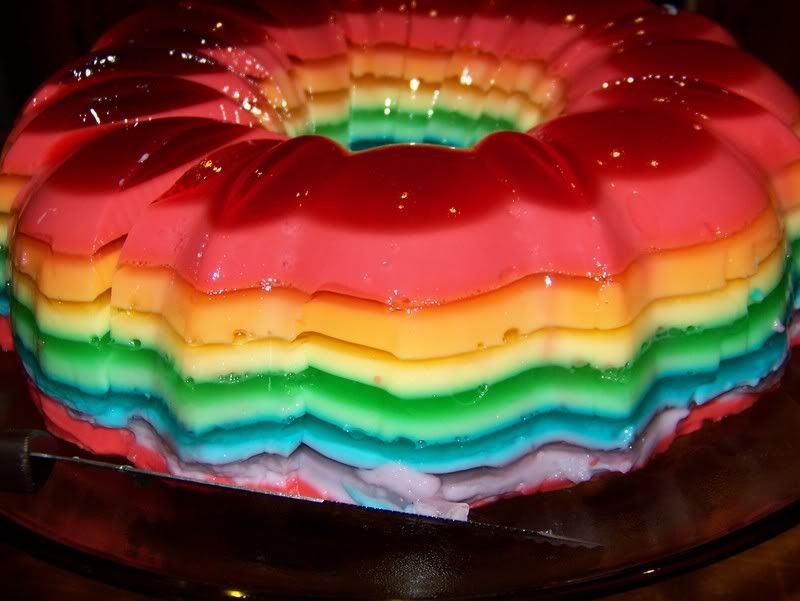 R

A

I

N

B

O

W

JELL-O MOLD

5-6 different flavors of jell-o (I used cranberry, orange, lemon, lime, blueberry, grape and strawberry - in that order from first to last)
1 container of sour cream
boiling water

Prepare first packet of jell-o, using 1 1/4 cups of boiling water. Stir completely to dissolve jell-o crystals. Pour 1/2 of the mixture into a bundt cake pan, and chill. Meanwhile, stir to dissolve 1 tbsp sour cream in leftover jell-o mixture. (This will create the cloudy layer.) Once first layer is set, spoon in second layer. Repeat this step until the bundt pan is filled, or you are finished with your packets of jell-o.

Chill in the refridgerator, covered with plastic, for 1-2 days before service, so that the jell-o mold holds it's shape.

To unmold, dip bundt pan in hot water for approximately 30 seconds, then invert onto a dish.

Everyone will be wow'ed. Garranteed.